For 'Rising Star Week', the writers of this website went to a list of future stars to pick their champions. Justin Robertson chose Andy McGrath because he saw hope and promise. Jay Croucher chose Eric Hipwood because he appreciates grace and beauty. Ryan Buckland chose Ryan Burton because he enjoys efficiency and metrics. Players are avatars for ourselves.
At first, I thought I chose my player because I love none of those things. But you cannot define yourself by what you are not. Looking back, it's clear that I knew who I was, even then. I chose Sam Powell-Pepper because I enjoy chaos and murder. RIP Shaun Burgoyne
The first time we heard of Sam Powell-Pepper, he wasn't yet 'SPP'. He was merely the violent teenager Port Adelaide drafted with the 18th pick of the 2016 draft. Powell-Pepper was a 'big-bodied midfielder', a description you read about but never appreciate.
The big bodies of elite midfielders Nat Fyfe and Patrick Cripps have inspired dozens of recruiting decisions based on size. But a big body doesn't always translate to big ability. Months before the draft, ESPN's draft expert Christopher Doerre compared Powell-Pepper to Tom Bell. Expectations were low for Port's first pick.
Powell-Pepper wasted no time setting everything on fire. Taking on Hawthorn in the pre-season, Powell-Pepper came up against seasoned veteran Shaun Burgoyne, a skilled and respected midfielder. Being bested by Burgoyne is like being lulled to sleep by a talented violinist playing a rare and expensive violin. The defeat is almost enjoyable.
Burgoyne came for the ball, violin-in-hand. Seconds later, Shaun Burgoyne was dead. Someone had smashed the Stradivarius. Blood was everywhere.
--- RIP Dustin Martin
The first phase of Dustin Martin's career was defined by his signature move, the 'Don't Argue'. He held the ball in one hand, and fended off a tackler with the other. It gave him space in contested situations, enough to sprint away or dispose of the ball. The fend-off will be Martin's iconic image, his statue, if one is forthcoming.
The fend-off was quickly becoming SPP's calling card as well. Powell-Pepper had moved on from Burgoyne, murdering both Martin Gleeson and Daniel Menzel with the manoeuvre. Nobody knew what a Martin-SPP duel would look like. Anticipation for the apocalypse drove many into incoherence. Can you 'Don't Argue' a fend-off? Can a virus infect a virus? Can a werewolf bite a werewolf? There are almost no parallels in real life.
Dustin Martin was headed for a Brownlow, perhaps a lengthy and lucrative contract extension with Richmond. Now he is ineligible for both. Because Dustin Martin is dead, SPP's left arm dumping his soul away from his body.
---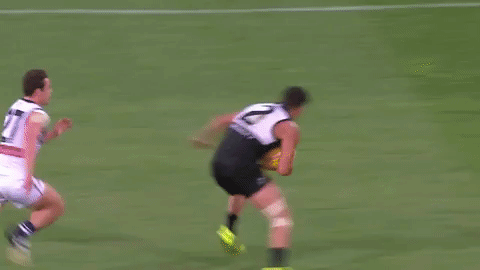 RIP Lachie Neale
It's remarkable that Lachie Neale didn't die on impact, like all the others. When Neale comes for the ball, he is merely stunned by the blow, his legs collapsing in betrayal. The strength of the fend-off had briefly paralysed him. Wounded but grateful for his life, Neale puts his failed tackle behind him, jogging away.
In a single season, SPP has become more than a big body. He is consistent as a midfielder in a side headed for finals. This teenager is shouldering enough to release Robbie Gray forward, a key plot point to Port's success this year. In other ways, Powell-Pepper has also become more than a midfielder. He owns shares in the fend-off like Jeremy Howe has a stake in the towering mark or bananas in the front pocket for Eddie Betts. The most iconic players can boil down their essence to brief, unmistakable signatures.
SPP probably won't win this year's Rising Star. The award will be biased towards cleaner, skilful players. This will be a mistake. Skills aren't solely restricted to disposal by foot, reading the play or performance at a position. We will award someone other than SPP, because we have a fundamental misunderstanding of what 'best' means.
The best teams are not the winningest teams, who play the winningest football. The best player cannot possibly be the AFL's winningest player, Joel Selwood. A love for Selwood is the death of excitement. We cannot be about this life.
Instead, let me tell you how Lachie Neale dies.
After fending off Neale and disposing of the ball, SPP jogs alongside his opponent.
The boy from West Australia has fended off one of Fremantle's best midfielders. This alone could be enough. He then gives Neale a mocking whack on the arse, killing him instantly. This is SPP's second-ever game of AFL football.
SPP is the best footballer alive.
---
The featured image of this article 'Sgt. Powell-Pepper' was illustrated by AFL artist Phoenix Trinidad (www.phoenixtrinidad.com).
Limited prints are available at Society6: https://society6.com/product/sgt-powell-pepper_print#s6-7577533p4a1v46
All profits will go to Michael Long's The Long Walk– a charity committed to the health and wellbeing of Aboriginal Australians. 
---
Rising Star Week
All week, the Onballers will pump up the tyres of a contender for the 2017 NAB AFL Rising Star award.
Tuesday: Eric Hipwood, the alien with limitless potential
Wednesday: Andrew McGrath, the number one number one pick
Thursday: Ryan Burton, Mr Natural
Friday: Sgt, Powell-Pepper, and his endless body count